IFHHRO | Medical Human Rights Network promotes health-related human rights, including the right to health. Our focus is on the important role of health professionals.
We believe that there lies a huge potential in the health professions that could be mobilized for the promotion and protection of human rights.
Featured Topic
IFHHRO's online Human Rights for Health Workers training manual: training sessions in four languages
Read more...
News
Kenya: Doctor demands legalization of female genital mutilation
A female doctor in Kenya has filed a court case to demand the legalization of female genital mutilation (FGM), as she claims the ban on FGM is discriminatory. Dr Kamau argues that the outlawing of female circumcision is against the culture of many African communities and should be reviewed. She said all females, especially adults, should be allowed to make choices regarding their bodies without being restricted by legislation.
Dr Kamau also wants the Kenyan Anti-FGM Board, which has been spearheading the campaign against the practice, to be abolished. After filing her petition on January 17th, she said: "Female circumcision is practised differently from one community to another, but it can be made safe. It is a minor surgical procedure that does not require anaesthesia or being put into a theatre."
Counterproductive to women's rights
Many organizations and individuals have objected to Dr Kamau's opinions, and several organizations have offered to fight her case in court. The case will be heard at the Machakos High Court on February 26th.
In response, Adriaan van Es, Secretary of IFHHRO | Medical Human Rights Network said:  "IFHHRO strongly opposes any form of female genital mutilation. In our opinion, the court case initiative of Dr Kamau to have FGM legalized is counterproductive to protect the human rights of girls and women."
WMA Statement
In the WMA Statement on Female Genital Mutilation (last revised in October 2016), the World Medical Association strongly condemns the "practice of genital mutilation or cutting of women and girls, regardless of the level of mutilation", stating that "performing FGM is a breach of medical ethics and human rights, and involvement by physicians may give it credibility." Thus, no physician should participate in these practices, and all National Medical Associations should prohibit any involvement by physicians in the practice of FGM, including re-infibulation after childbirth.
With regards to the medical and psychological consequences of FGM, the Statement reads: "FGM has no health benefits and harms girls and women in many ways, regardless of which procedure is performed.  Research shows grave permanent damage to health, including: haemorrhage, infections, urinary retention, injury to adjacent organs, shock and very severe pain. Long-term complications include severe scarring, chronic bladder and urinary tract infections, urologic and obstetric complications, and psychological and social problems. FGM has serious consequences for sexuality and how it is experienced, including the loss of capacity for orgasm. There are also many complications during childbirth including expulsion disturbances, formation of fistulae, and traumatic tears of vulvar tissue."
Main source: News article Daily Nation, 18 January 2018
Read more...
Flaws and human rights challenges in mental health systems across Europe
Earlier this week, Mental Health Europe and the University of Kent-Tizard Centre (UK) launched a report on their extensive study on the state of mental health services across Europe (more than 35 countries). This report, entitled Mapping and Understanding Exclusion. Institutional, coercive and community based services and practices across Europe is an expanded edition of Mental Health Europe's 2012 Mapping Exclusion report.  The study provides exclusive data and testimonies about European mental health systems, ongoing human rights violations, and promising alternatives.
Outdated and questionable practices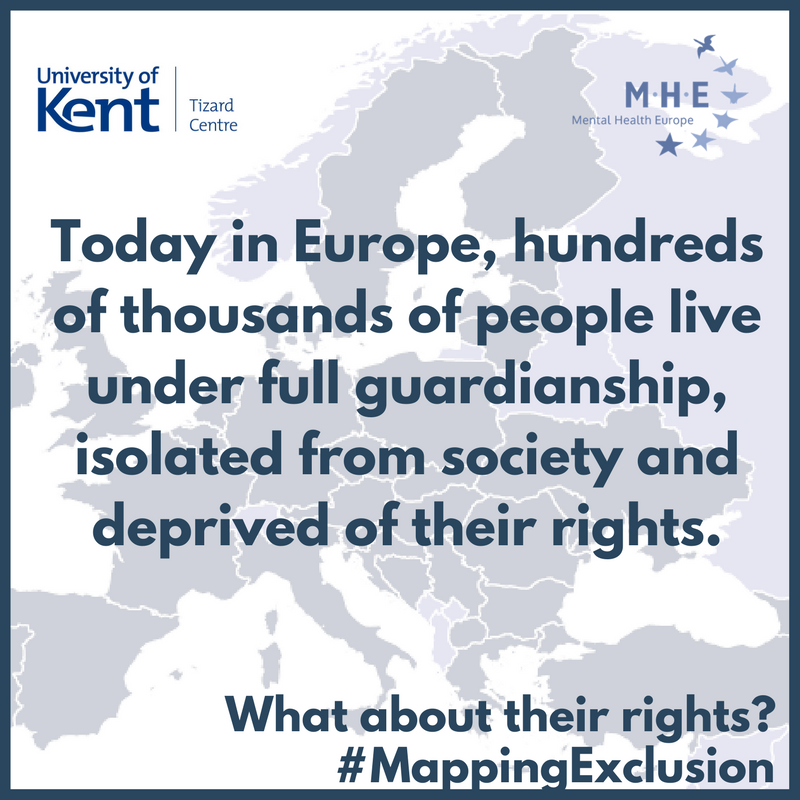 According to Mental Health Europe (MHE), tens of thousands of people with mental health problems are living in psychiatric and other institutions in Europe today. At least 264,000 people live under full guardianship, isolated from society and deprived of the right to make choices which make up our everyday lives. Nigel Henderson, MHE President, said: "Many of them are deprived of their most basic rights, have little control over their lives and face abuses such as excessive use of seclusion, restraint and forced treatment. Although there are some positive changes happening in some European countries, the findings of our report highlight some outdated and questionable practices in mental health systems across Europe."
Coercion and confinement
The report shows that institutional care, the use of coercion, forced medication, loss of rights and reliance on involuntary hospitalisation of people living with mental ill health are not only a Central and Eastern European problem: countries in Western Europe (including France, Belgium, Ireland, the Netherlands, Portugal, and Germany) still have mental health systems where treatment relies too much on confinement and where tens of thousands of people with mental health problems are still living in closed institutions.
"I believe it may have been harder for me to heal from the trauma of the hospitalisation rather than from the mental health issues themselves", said Sabrina Palumbo, one of the people who was interviewed for the study.
Blurb from the Executive Summary
The report shows that while the situation described in 2012 has changed somewhat, there is still a substantial number of people with mental health problems living in institutions across Europe and in need of community-based services. Although reforms have taken place, the report shows that there are several barriers such as the poor cooperation between social and health authorities, lack of human rights compliant community-based services, trans-institutionalisation and austerity. Furthermore, in recent years deinstitutionalisation has been painted as a largely Central and Eastern European issue, however institutions exist in many Western countries as well, including France, Belgium, Ireland, the Netherlands, Portugal, and
Germany, where tens of thousands of people with mental health problems are still living and where little is being done about this situation. In Central and Eastern Europe, the implementation of EU-funded deinstitutionalisation programmes has been slow, and there are limited data about the actual outcomes of these programmes for people with mental health problems.
The personal testimonies which were graciously provided by people with lived experience of coercive measures and collected for this report show that involuntary placement and treatment can have long-term and devastating effects on people's lives. Lack of information before and during admission, poor physical conditions, forced medication with severe side effects, the
absence of legal aid, physical and emotional harm, social and physical isolation, and stigma all featured in personal testimonies
of ex-users and survivors.
In the previous Mapping Exclusion report in 2012, several countries were planning or implementing progressive – and promising – legal capacity reforms. However, by 2017 our report found that only some countries have actually changed their relevant laws and practical implementation of supported decision-making remains wanting almost everywhere. Overall the
evidence collected in this report shows that the human rights issues facing people with mental health problems and psychosocial disabilities both within and outside of mental health services should still be of great concern.
---
Source: News release Mental Health Europe, 16 January 2018
Download the report Mapping and Understanding Exclusion. Institutional, coercive and community based services and practices across Europe. Mental Health Europe/University of Kent-Tizard Centre, December 2017
Read more...
Canada: Ruling on indefinite solitary confinement in federal prisons
Yesterday, the British Colombia Civil Liberties Association (BCCLA) and John Howard Society of Canada (JHSC) won their court case challenging the use of solitary confinement in Canada's federal prisons. The B.C. Supreme Court's decision means an end to the practice of indefinitely isolating inmates in federal prisons across Canada.
Landmark decision
Jay Aubrey, staff lawyer at the BCCLA, stated: "This is the most significant prison law decision from a trial court in Canadian history. It is a stunning decision that is grounded in four decades of history, and the best social science and medical evidence on the impact on inmates health of solitary confinement, and alternatives to solitary confinement."
Caily DiPuma, Acting Litigation Director for the BCCLA, reacts: "For decades, prisoners have suffered terribly in solitary confinement cells. Isolated for up to 23 hours a day, sometimes for months and years at a time, they have been harmed physically, mentally and spiritually. Today's victory belongs to them, to their families and to everyone inside and outside of prison who fought tirelessly to end this unconstitutional and deeply harmful practice."
Adriaan van Es, Secretary of IFHHRO | Medical Human Rights Network: "IFHHRO welcomes the landmark ruling of the British Colombia Supreme Court. This victory of the British Columbia Civil Liberties Association and John Howard Society of Canada is an important milestone in securing basic human rights of prisoners. There is abundant medical and psychological evidence that prolonged isolation is detrimental to the health of human beings. Prolonged isolation has been identified by the United Nations as a form of torture."
Form of torture
In Canada, one out of every four prisoners in the federal prison system has spent time in solitary confinement. Also known as "segregation", the practice of isolating inmates for up to 23 hours a day was found by the United Nations to be a form of torture when used in excess of 15 days. In Canada, prisoners have spent consecutive months and even years in solitary confinement.
The lawsuit was filed in 2015 by the BCCLA and JHSC. The case alleged that solitary confinement amounts to cruel and unusual punishment that leads to prisoner suffering and deaths, deprives prisoners of fundamental procedural protections, and is discriminatory against both mentally ill and Indigenous prisoners.
---
Source: News release British Colombia Civil Liberties Association, 17 January 2018
Read more...